The Rourke Baby Record (RBR) was first developed in 1979 by Drs. Leslie and James Rourke, who were at that time rural family physicians in Goderich, Ontario, Canada.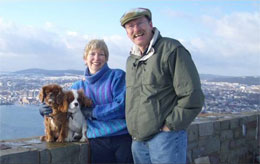 Despite many changes over the past 40+ years, the basic philosophy of the RBR system of well baby/child care has not changed. It functions as a structured form for charting, acts as an aide-mémoire, allows for efficient use of time, encourages a team approach, and is an ideal teaching tool for comprehensive, evidence-based well baby/child care from 0 to 5 years of age. It is a practical knowledge translation tool that enables clinical implementation of current research findings to make a positive impact on the healthcare of infants and young children and their health outcomes.
The Rourke Baby Record has been revised periodically since 1979. In 1998 in collaboration with Dr. Jacqui Wakefield and colleagues at McMaster University, the tool was revised to include the evidence-based recommendations from the 1994 Canadian Task Force on Periodic Health Examination (CFTPHE). Since 1999, the Rourkes have collaborated with Dr. Denis Leduc, a Past President of the Canadian Paediatric Society (CPS).
The Rourke Baby Record (RBR) was first published in 1985 in Canadian Family Physician, "Well Baby Visits: Screening and Health Promotion". (1) Revisions have been published in both Canadian Family Physician and Paediatrics and Child Health. (2, 3, 4, 5, 6, 7, 8, 9, 20, 21, 22, 23, 24)
The RBR is widely used across Canada and has become de facto a standard tool for well baby/child care. It is endorsed by the Canadian Paediatric Society (CPS), the College of Family Physicians of Canada (CFPC), and Dietitians of Canada, and is cited in review articles and textbooks (10, 11, 15, 16).
Research on the use of, satisfaction with and criterion validity of the Rourke Baby Record occurred in 2005-2006. (19)
Bibliography
Rourke JTB, Rourke LL. Well Baby Visits: Screening and Health Promotion. Canadian Family Physician 1985;31:997-1002.
Rourke LL, Rourke JTB. Well baby assessment revisited: 1994 update of the Rourke Baby Record flow charts. Canadian Family Physician 1994;40:1796-1803.
Panagiotou L, Rourke L, Rourke J, Wakefield J, Winfield D. Evidence-based well-baby care, Part 1: Overview of the next generation of the Rourke Baby Record. Canadian Family Physician, 1998;44:558-567.
Panagiotou L, Rourke L, Rourke J, Wakefield J, Winfield D. Evidence-based well-baby care, Part 2: Education and advice section of the next generation of the Rourke Baby Record. Canadian Family Physician, 1998;44:568-572.
Rourke LL, Leduc DG, Rourke JTB. Rourke Baby Record 2000: Collaboration in action. Canadian Family Physician 2001;47:333-334. Correction Canadian Family Physician 2001;47:703.
Rourke L, Leduc D, Rourke J, Constantin E. Health supervision from 0 to 5 years using the Rourke Baby Record 2006. Canadian Family Physician 2006; 52: 1273-4. Jointly published in Paediatrics and Child Health 2006;11(8): 487-8.
Rourke L, Leduc D, Constantin E, Carsley S, Rourke J. Update on well-baby and well-child care from 0 to 5 years: What's new in the Rourke Baby Record? Canadian Family Physician 2010; 56: 1285-90.
Rourke L, Leduc D, Constantin E, Carsley S, Rourke J, Li P. Getting it right from birth to kindergarten What's new in the Rourke Baby Record? Canadian Family Physician 2013;59:355-359.
Healthy Child Development. Peer Presenter Program. Ontario College of Family Physicians; 2000.

Problem Based Learning Module – author/reviewers/editor/writer – Comley L, Roberts W, Zwaigenbaum L, Wakefield J, and Cranston L. "Well baby Visit at 18 Months". Foundation for Medical Practice Education. Volume 9(10), November 2001.

Moyer VA, Elliott E, Davis RL, Gilbert R, Klassen T, Logan S, et al. Evidence based pediatrics and child health. London, England: BMJ Books; 2000.
Dinkevich E, Ozuah P. Well-child care: effectiveness of current recommendations. Clin Pediatr 2002;41:211-217.
Kozier B, Erb G, Berman A, Snyder S, Longpre S, Cloutier L. Soins Infirmiers: Theorie et Pratique. French Language edition of Fundamentals of Nursing: Concepts, process and practice. Saint-Laurent Quebec: ERPI; 2005.
©Thornton C. "Well Baby Care: Enhancing the 18 Month Visit". Shaw E., editor.
Hamilton, Ontario: The Foundation for Medical Practice Education,
PBLP Educational Module. 2011 (August): 19(7): 1-15.
Rourke L, Godwin M, Rourke J, Pearce S, Bean J. The Rourke Baby Record Infant/Child Maintenance Guide: do doctors use it, do they find it useful, and does using it improve their well-baby visit records?. BMC Family Practice 2009;10:28.
Riverin B, Li P, Rourke L, Leduc D, Rourke J. Rourke Baby Record 2014: Evidence-based tool for the health of infants and children from birth to age 5. Canadian Family Physician. 2015; 61: 949-955 (Clinical Review).
Li P, Rourke L, Leduc D, Arulthas S, Rezk K, Rourke J. "Rourke Baby Record 2017: Clinical update for preventive care of children up to 5 years of age." Canadian Family Physician 2019, 65(3):183-191.
Abrams E, Rourke L, Leduc D, Li P. Evolution of the Rourke Baby Record as evidence mounts about food allergy prevention: Review and practical tips. Canadian Family Physician 2020; 66:314-316.
Li P, Rowan-Legg A, Kwok B, Bayoumi I, Arulthas S, Tedone E, Leduc D, Rourke J and Rourke L. 2020 edition of the Rourke Baby Record: What is new in preventive care of children up to 5 years of age?
Can Fam Physician 2021; 67:488-498 doi:10.46747/cfp.6707488